View this email in your browser.

The CDC COVID-19 Community Level is MEDIUM. This means masks are not required but still not a bad idea! COVID exposures (being around someone who has COVID but doesn't realize it yet) are still happening, including at church.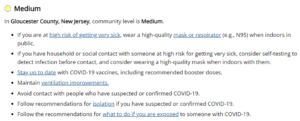 ---
This Sunday, we continue the Adult Forum series "The Way of Love."  Led by Deacon John and promoted by Bishop Curry, this program ties the Easter Vigil readings to the seven practices of the Way of Love.  Each week lessons will be introduced, via video provided in the newsletter, and explored.  Weekly videos can also be viewed on the Adult Forum page of the website.
The journey through Lent into Easter is a journey with Jesus. We are baptized into his life, self-giving, and death; then, we rise in hope to life transformed. This Lent, communities are invited to walk with Jesus in his Way of Love and into the experience of transformed life. Together, we will reflect anew on the loving actions of God as recounted in the Easter Vigil readings. Together, we will walk through the depths of salvation history into the fullness of redemption.
Session Four / BLESS: A New Heart and a New Spirit (Ezekiel 36:24-28)
---
Stations of the Cross, convened by Sara J. will take place every Friday in Lent at 7pm.
---
Mark your calendars for an evening of peaceful Evensong on Saturday, 25 March, at 5:30 PM.  This special service, features beautiful choral music and moments of quiet reflection.
---
TEC@RU welcomed a Jazz Quartet last Sunday evening for a wonderful performance!
---
St. Thomas' has a history of holding a "Garden Watch" on Maundy Thursday. This is when we sit quietly in the presence of the sacrament remaining from our last Eucharist before the Easter Vigil, as the disciples sat with Jesus after the Last Supper. Would you like to participate? If so, please email office@stthomasglassboro.org (or leave a voicemail on the church line: 856.881.9144) stating what times you would like to watch. See what slots are already filled on the St. Thomas' rota: https://www.stthomasglassboro.org/rota/ . Please note: if the schedule doesn't fill out all the way through morning, your requested times may be shifted back to connect with the person before you.
---
Tomorrow!

---
There are only 2 passages left to claim for the Easter Vigil (8 April, 6pm) Readings can be done solo, with a friend or with a group!   Please email office@stthomasglassboro.org to sign up for one:
Reading 5       Baruch 3:9-15, 3:32-4:4
Reading 7       Zephaniah 3:14-20 [The gathering of God's people]
---
St. Thomas' has overflowed two tables for the Bishop's Farewell gala featuring Presiding Bishop Michael Curry as our keynote speaker! If you're interested in attending this special event on Sunday, 21 May, at 5pm, please let Donna F. know within the next week so we can see whether we need to reserve an entire third table!
---
Thank you to everyone who came out for Kitchen of Hope last weekend.  Special thanks to all of our new volunteers!  We can't do it without you!  Our next giveaway is Saturday 8 April.
---
Thank you to everyone who came out for the Blood Drive on 9 March!  The results are in:
Goal 24
Presented 22
Deferred 4
QNS 1
Power Red 1
Total Units 18
---
Are you a Glassboro resident? Rowan University wants to give back to you! This year volunteer students will be assigned to visit local houses on the afternoon of 23 April to do outdoor chores: raking leaves, pulling weeds, painting, or anything else you need help with. If you live in Glassboro and would be interested in students working outdoors at your home, please contact volunteer@rowan.edu or 856-256-4597 before 17 March.
---
Tomorrow!  Join our neighbors at St. Peter's, Clarksboro for their annual Crab Cake Supper, 3-6 pm Saturday, 18 March. Dine-In or Carry-Out tickets are available at www.stpetersclarksboro.org/store or your spot can be reserved by calling 856-423-4116, or you can email tics@stpetersclarksboro.org.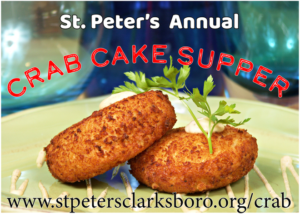 ---
Partner with Episcopal Relief & Development to provide support to people affected by the deadly earthquake along the border between Türkiye (Turkey) and Syria. Visit enspiscopalrelief.org today to make a contribution to the Türkiye (Turkey)-Syria Earthquake Respoe Fund
---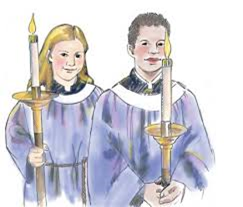 Looking to get directly involved with services? Acolytes are lay people who assist at the altar by lighting candles, helping prepare for communion, carry the cross in processional and so much more!  Adults and children 10 and up qualify to serve as an acolyte – no experience required!  Children will be trained to do tasks that match their ability, people aged 16+ will be trained as Eucharistic ministers to assist in administering the bread and wine at Holy Eucharist.  Trainings take place throughout the year – contact Sarah A.W. to help!
Interested in joining a new ministry but don't know where to start?  Every week, a different group will be highlighted at the end of the newsletter.  Information about meetings, what they do in the church or community, contact info and more!  If you have content you want to share about your ministry, send it to announcements@stthomasglassboro.org to be featured in an upcoming newsletter.
---
Lectionary readings for this week:  1 Samuel 16:1-13, Ephesians 5:8-14, John 9:1-41, Psalm 23
Lectionary readings for next week:  Ezekiel 37:1-14, Romans 8:6-11, John 11:1-45, Psalm 130
Please continue in your daily prayers for: Dennis, Marge, Joann, Lou, Jennifer, Cameron, Jane, Richard, Bea, Sue, Lenore, John, Becky, Bill, Terryon, Melissa, Daniel, Annette, Roy, Ginny, Harley, Bob, Andrea, Gilberto, Mary Esther, Braelynn, Jeffrey, Priscilla, Sam, Brian
---
Announcements for the parish email are due via email by noon on Wednesday of each week. You can email them to announcements@stthomasglassboro.org
The church calendar can be seen at https://www.stthomasglassboro.org/calendar/ for a list of upcoming events. Please help us keep it current (and avoid hurt feelings) by sending updates to the church office (office@stthomasglassboro.org).
Are you serving in liturgy? Check the rota!
Prayer requests can be sent to prayer@stthomasglassboro.org
Watch our livestream here Saturdays at 5:30pm and Sundays at 8am & 10:30am!
Full-text of the liturgy is available at  https://www.sharedprayers.net
Holy Eucharist (Nave – now with music!): Saturdays, 5:30pm
Holy Eucharist in the Nave – Rite I (Nave):  Sundays, 8am
Adult Formation (Parish Hall):  Sundays, 9am
Children's Sunday School (Parish Hall):  Sundays, 9am
Coffee Hour (Parish Hall): Sundays, 10am
Holy Eucharist (Parish Hall): Sundays, 10:30am
Centering Prayer (Nave): Mondays at 4pm (also on Zoom)
Holy Eucharist at Lych Gate (most times):  Wednesdays, 5:30pm