​Christian formation is the lifelong process of growing in our relationship with God, self, others, and all creation.
2023/2024 Adult Formation Offerings
Sundays, 9am: Adult Forum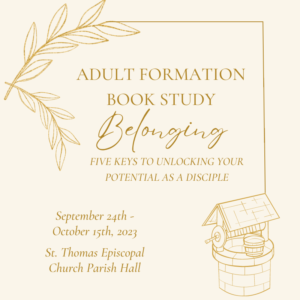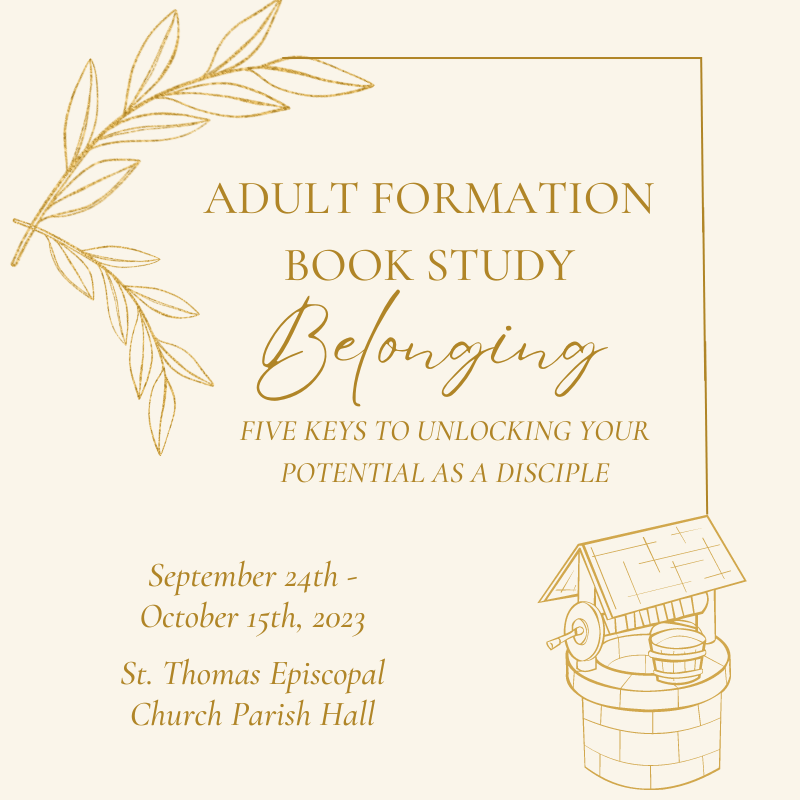 Are you interested in learning what it truly means to be a disciple for Christ? St. Thomas Episcopal Church's first Adult Formation class of the year will cover that and more in our four-week book study, Belonging: Five Keys to Unlock Your Potential as a Disciple by Karoline M. Lewis. This book study, led by Rachael O. will begin on September 24th in the Parish Hall at 9 AM and will continue until October 15th. If you are interested in participating in the book study, please purchase Belonging at a bookseller near you, such as Barnes & Noble and Words Matter Bookstore in Pitman, NJ, or borrow the book at your local library. If you have any questions, please speak to Rachael O. at rachmo407@gmail.com.
Reading Schedule
9/24: Prologue & Introduction (pp. ix – 16)
10/1: Chapters 1-2 (pp. 17-50)
10/8: Chapters 3-4 (pp. 51 – 84)
10/15: Chapter 5 – Epilogue (pp. 85 – 106)
---
Upcoming Offerings
22 October – 12 November – Immigration (Tal K./Donna F.)
19-26 November – The Truth About Henry VIII (Fr. Glenn D.)
3 December – Source Criticism (Fr. Glenn D.)
10-17 December – TBA (Cole B.)
24 December – Intergenerational Christmas Eve Activity
31 December – OFF
7-14 January – TBA (Eric C.)
21-28 January – Canon Law (Fr. Glenn D.)
4-25 February – Black History Month Presentation (Dcn John H.)
3-24 March – Book Study (Rachael O.)
31 March – OFF
7-28 April – Campus Pride Month Presentation (Sarah T.)
5-26 May – Church Music (Music Director)
---
"Formation" is the process of making Christian disciples, followers of Jesus. Sunday School (for all ages) is a piece of that process.
As Jesus was walking along, he saw Levi son of Alphaeus sitting at the tax booth, and he said to him, "Follow me." And he got up and followed him. – Mark 2:14