​Christian formation is the lifelong process of growing in our relationship with God, self, others, and all creation.
Summer 2022 Adult Formation Offerings
Sundays, 9am in the Lower Level Parish Hall: Hearts Unbound – Engaging Biblical Texts of God's Radical Love through Reader's Theater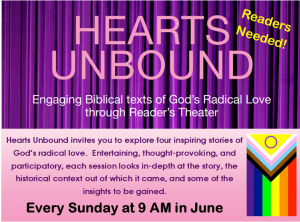 In celebration of Pride Month, join us for a new Adult Formation offering, Hearts Unbound.  The overwhelming message of the Bible, in story after story, is that of God's radical love and welcome. Every time we think we know who's in and who's out, God does something to challenge those assumptions, to unbind our hearts and minds from old ways of understanding, and to draw the circle ever wider.  This is setup in a fun, informal reader's theater – no costumes or props!  Readers needed!  Contact Sarah T. for questions/more info.
5 June / Matthew 15:21–28:  Hearts Unbound – Week 1 – Crumbs for Dogs
12 June / The Book of Jonah:  Hearts Unbound – Week 2 – Much More Than A Big Fish Tale
19 June / Luke 10:25–37:  Hearts Unbound – Week 3 – Saying the S-Word
26 June / Mark 2:23–3:6 / Luke 13:10–17:  Hearts Unbound – Week 4 – Healing On God's Time
Mondays, 4pm: Centering Prayer
Join us as we practice Centering Prayer together every Monday.
Mondays, 7pm: Book Group – St. Augustine's Confessions
We read a chapter (or so) each week and meet to discuss on Monday nights.
Due to changes in the schedules of participants, this Book Group is on hold indefinitely. That doesn't mean you can't assemble another group around another book!
Tuesdays, 7pm: Bible Study
Our Tuesday Bible study is a chance to read from the Scriptures together and hold an informal discussion. No question is too basic, crazy, or off-topic! We pick a book of the Bible and read through it, one or two chapters a week (depending on genre), and see where the Spirit leads the discussion. Currently studying: Daniel.
---
Past Class Recordings
Seeking History with Christian Eyes (Summer 2021)
This down-to-earth online workshop, facilitated by Jonathan Wilson, is recommended for history enthusiasts, history non-enthusiasts, readers of historical fiction, students, genealogists, social activists, or anyone else who wants to see the past from a fresh perspective.
Week 1 | Week 2 | Week 3
---
"Formation" is the process of making Christian disciples, followers of Jesus. Sunday School (for all ages) is a piece of that process.
As Jesus was walking along, he saw Levi son of Alphaeus sitting at the tax booth, and he said to him, "Follow me." And he got up and followed him. – Mark 2:14