View this email in your browser.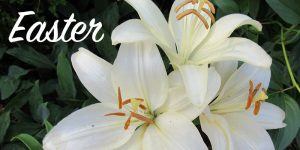 This Sunday we celebrate Pentecost!  Don't forget to wear red!
---
In celebration of the feast of Pentecost, we will be having a Pentecost Potluck!  Whip up your favorite dish and bring it Sunday, 28 May following the 10:30 service.   Quick and fun craft for all ages to follow.  Please contact Sarah T. for questions.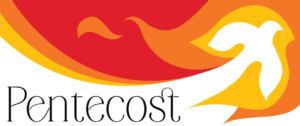 ---
There will be no Children's Chapel/Sunday School this Sunday, 28 May.
---
The last day of Sunday School/Children's Chapel will be 11 June. Following the 10:30 service they will be attending  "Fun City" in Turnersville.  Contact Barb K for details.
---
Bishop Stokes Retirement Gala was this past weekend.  The event was livestreamed and you can watch it here.  When Bishop Chip was ordained as our Bishop, one of the promises he made was to "boldly proclaim and interpret the Gospel of Christ, enlightening the minds and stirring up the conscience" of the people of the Diocese of New Jersey. He certainly accomplished this goal in many ways throughout his episcopate, especially in the founding of Episcopal Community Services of the Diocese of New Jersey (ECS-NJ).
ECS-NJ is an expression of Bishop Chip's vision of a united diocese tackling immediate, community-identified human needs while relentlessly working against both social and racial injustice. Through education, advocacy, fundraising, grantmaking, and prayer, we strive for Gospel justice together as a Diocese.
In honor of the ministries of both Bishop and Susan Stokes, ECS-NJ will use the proceeds of the May 21 gala to establish The Stokes Endowment Fund to ensure the strength, viability, and sustainability of ECS-NJ.  If you would like to contribute to the work of ECS-NJ, you can do so here.
---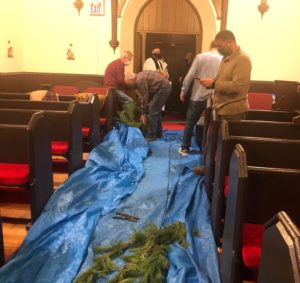 The Tuesday Night Work Crew does odd jobs around the church grounds big and small every Tuesday Night.  From fixing ceiling tiles to hanging the pine in the nave, the guys do more work behind the scenes thank you may know!  Coffee and fellowship always flows freely!  Join us!
Ministry Spotlights will be taking the months of June and July off and returning in August in anticipation of the fall kickoff season.
Interested in joining a new ministry but don't know where to start?  Every week, a different group will be highlighted at the end of the newsletter.  Information about meetings, what they do in the church or community, contact info and more!  If you have content you want to share about your ministry, send it to announcements@stthomasglassboro.org to be featured in an upcoming newsletter.
---
Lectionary readings for this week:   Numbers 11:24-30, Acts 2:1-21, John 20:19-23, Psalm 104:25-35, 37
Lectionary readings for next week:  Genesis 1:1-2:4a, 2 Corinthians 13:11-13, Matthew 28:16-20, Psalm 8
Please continue in your daily prayers for:  Dennis, Marge, Joann, Lou, Jennifer, Cameron, Jane, Richard, Sue, Becky, Bob, Andrea, Heather, Antoinette, Tal, Barbara, Brenda, Neil, Tammy, Walter, Andy, Ruth, Cyril, Jim, Bob, Jimmy, Linda, César, Joan, Ronnie, Sandy
---
Father Todd will be on sabbatical May, June and July (returning in August). In case of a pastoral emergency, please contact Deacon John.
Announcements for the parish email are due via email by noon on Wednesday of each week. You can email them to announcements@stthomasglassboro.org
The church calendar can be seen at https://www.stthomasglassboro.org/calendar/ for a list of upcoming events. Please help us keep it current (and avoid hurt feelings) by sending updates to the church office (office@stthomasglassboro.org).
Are you serving in liturgy? Check the rota!
Prayer requests can be sent to prayer@stthomasglassboro.org
Watch our livestream here Saturdays at 5:30pm and Sundays at 8am & 10:30am!
Full-text of the liturgy is available at  https://www.sharedprayers.net
Holy Eucharist (Nave – now with music!): Saturdays, 5:30pm
Holy Eucharist in the Nave – Rite I (Nave):  Sundays, 8am
Adult Formation (Parish Hall):  Sundays, 9am
Children's Sunday School (Parish Hall):  Sundays, 9am
Coffee Hour (Parish Hall): Sundays, 10am
Holy Eucharist (Parish Hall): Sundays, 10:30am