Dear St. Thomas',
When I was in Atlanta in January for an Episcopal conference on Formation – and for a Revival in the Diocese of Atlanta – the main conference speaker was the Rev. Dr. William Barber, Jr., who spoke to us about the Poor People's Campaign (and who preached a dynamite sermon in the National Cathedral this past Sunday!).
I found his talk inspiring: advocacy for the wellbeing of all people. I dwell with the continual and growing awareness of my own privilege and abundance, and always am wondering how I am called to use those gifts to lift up others, too. If you know my background, as a church planter in the Bronx, this is a long-standing theme in my own spiritual journey.
I immediately began planning to invite St. Thomas' to join me on a spiritual pilgrimage to Washington, D.C. to participate in the "Mass Poor People's Assembly & Moral March on Washington" planned for Saturday, 20 June 2020. I found the pastor of First Presbyterian Church in Pitman was also planning to go, and how we might between us arrange a bus to carry us and our parishioners down there!
Then came the Corona virus. A virus which has disproportionately affected people of color. A virus which has disproportionately hurt the poor, those who cannot afford to miss a paycheck, those who cannot work from home. Those whose jobs were eliminated as our economy shut down, as well as those who were told they must come to work, no matter what, and often with inadequate protections, because they were "essential workers."
Thus was the Poor People's Campaign moved online. It will be broadcast online on Saturday, starting at 10am. I invite you to join me in watching and hearing, taking part in this march from the comfort of your own home. It's probable some parts of it will feel uncomfortable. Those are the times when God is calling us to pay attention and to hear what God is saying to us. The purpose of prophecy is not to bring comfort: it is to wake us up and invite change!
Listen with me on Saturday and together let us consider: what is God's call to us in this place and time?
Faithfully,
Todd+
This weekend is the last weekend for children's Sunday School this spring! If you have a child (elementary school and younger), join us online Sunday at 9am! Whether or not you have your own child in the program, please join me in thanking Barbara K., Gretchen O., Barbara C., and Kathy S. for their faithful ministry and expressions of love for our parish's children even through the challenges of Covid-19.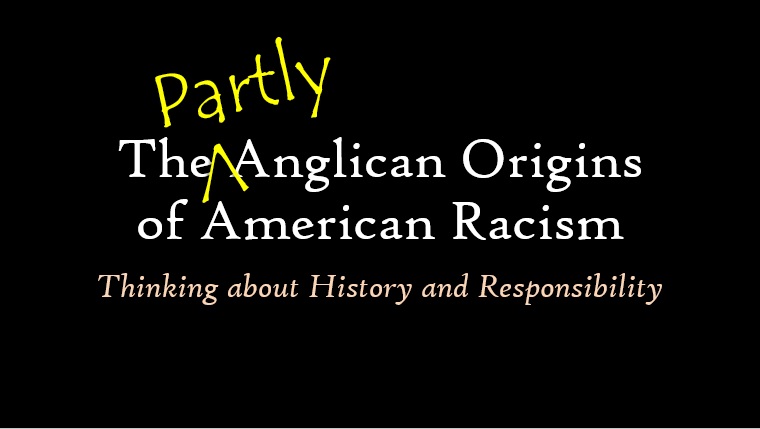 The (Partly) Anglican Origins of American Racism: To understand where we are, we need to consider where we've been. In this challenging two-part formation series, Jonathan W., a professional history instructor and member of St. Thomas', will help us examine how Anglican and Episcopal churches contributed to early American ideas about race. Sunday mornings at 10am on 21, 28 June (this week and next!).
Kitchen of Hope's mission of combating food insecurity is more important than ever during this time of mass unemployment. Therefore we will be offering food distributions on two different Saturdays in June: the second and the fourth (13 June and 27 June). Volunteers are needed but you must sign up with Vivian H. and come only during your assigned shift so that we may continue to comply with state and Diocesan guidelines on social distancing!
Ruth G. asks for prayers for her 18th great grandchild, Sofia, born Thursday this week. Sofia was born two months early and is doing well so far.
Anna Marie W. is turning 90 on 1 July! Send her a Happy Birthday card at 11 N. Ambler Road; Somers Point NJ 08244.
---
Join Poor People's Campaign, the largest digital gathering of poor and impacted people in this nation's history. More than 100 organizations will participate, along with 16 religious denominations, and national figures and celebrities. The core of the program will be the words and experiences of poor and impacted people from across this country—including direct testimony from Chaplains on the Harbor, and Episcopal Ministry in Washington State. Together, we will change the narrative. Join us on Saturday, 20 June at 10am and 6pm, and on Sunday, 21 June at 6pm online: https://www.june2020.org/
Announcements for the bulletin or parish email are due into the office by noon on Wednesday of each week. You can email them to office@stthomasglassboro.org or call the office at 856-881-9144. Announcements are subject to editing due to limited space.
Lectionary readings for this week: Genesis 21:8-21, Psalm 86:1-10, 16-17, Romans 6:1b-11, Matthew 10:24-39
Lectionary readings for next week: Genesis 22:1-14, Psalm 13, Romans 6:12-23, Matthew 10:40-42
Please continue in your daily prayers for: Dennis, Marge, Don, Brad, Joann, Ruth, Chuck, Jim, Medical Personnel threatened, sickened, and dying from their service to patients with Covid-19, Roy, Bryan, Tracy, Sandy, Catherine, Michelle, Kris, Owen Family, Tom, Gwendolyn, Simkins Family, Family of Dorothy Johnson, Tracy, Karen, Dave, Eunice, Darrell, Janet, Jade, Chris, Jimmy, Andrea, Leann, Family of Adriel, Jimmy, Debbie, Mike, Kim, Joan, Charles, Stormy, Tommy, Riley, Sandy, Steven, Sofia
Friday, 19 June: Juneteenth
Today, 19 June, we celebrate "Juneteenth": the day in which the declaration of freedom for slaves reached the final territory of the United States. This is being observed in our community with a variety of events.
Bishop Stokes and Canon Brian Jemmott are celebrating Juneteenth today, 19 June, at 7pm by hosting a watch party for 13th, the Ava Duvernay examination of the U.S. prison system and its connection to racism. We watched this together at St. Thomas' a couple years ago: it is a powerful documentary (winner of an Emmy and other awards) which can be challenging to watch. See the Diocesan announcement for more information. A Netflix account is not required to participate!
Saturday, 5.30pm: Evening Prayer
With Sunday lessons & homily.
Sunday, 9.00am: Sunday School for Children
Sunday, 10.00am: Adult Formation
The (partly) Anglican Origins of Anglican Racism (part 1 of 2)
Sunday, 11.15am: Holy Eucharist with Spiritual Communion
at the Washington National Cathedral
Daily Morning Prayer (Monday through Saturday)
Podcasts (currently: Sheer Christianity)
Nightly Compline with our neighbors at St. Stephen's, Mullica Hill
(Monday through Friday)
Monday, 4pm: Centering Prayer
Tuesday, Noon: Coffee Hour
Wednesday, 6.30pm: Prayer in the Evening
Check-in and a brief (5-minute) service of prayer.
Wednesday, 7.00pm: Bible Study with Bishop Stokes
Events hosted by St. Thomas' are accessed via Zoom: instructions here.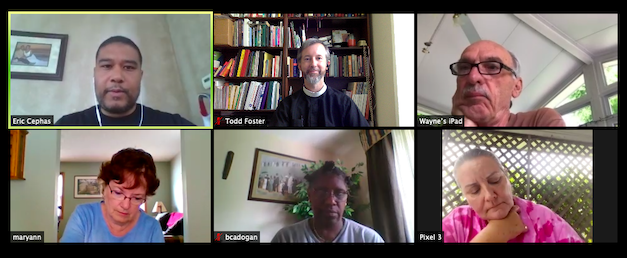 The St. Thomas' Stay Safe Committee, selected both for subject expertise and for representing a large cross-section of the life of St. Thomas', is hard at work. Many of you responsded to a congregational survey during phone calls this past week: your answers will help inform the policies they shape. Once those policies are approved by the Diocese, we will be able to use those policies to resume operations safely on our campus. Thank you Eric, Mary Ann, Barbara, Sid, and Wayne, for your generous service to St. Thomas'!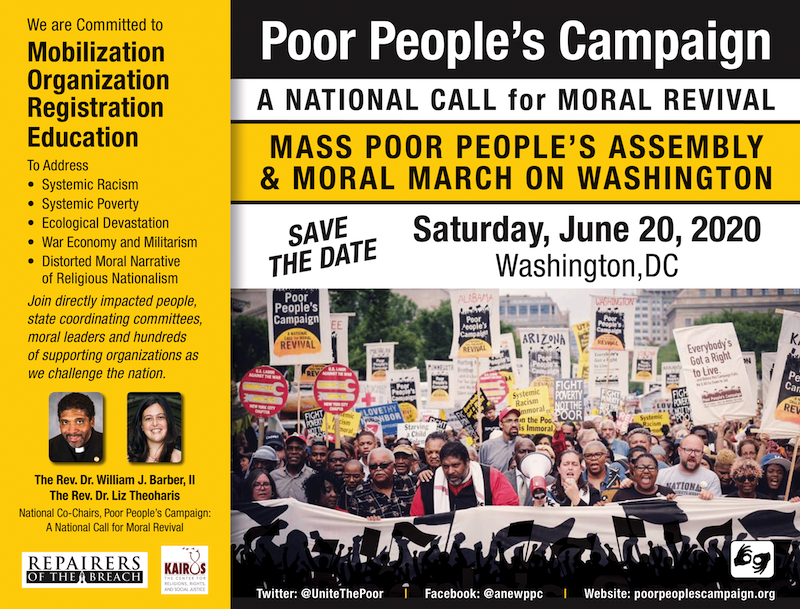 This march has been moved online! Join us Saturday at 10am!
The Episcopal Diocese of New Jersey Anti-Racism Ministry invites you to take advantage of these sequestered and less scheduled days to enroll in 20 hours of virtual Anti-Racism Training streamed to your computer, tablet or mobile phone. The training takes a historical approach to help participants understand systemic racism and empower them to confront and organize against racism, inequality, and injustice. Lecture and discussion topics include "What is Race?", "Systemic Racism and White Privilege," "Internalized Racism," "The Role of the Church," "Settler Colonialism," "Racism in Immigration and Naturalization Legislation," and "The Prison Industrial Complex."
The training begins on July 10 with a Zoom videoconference plenary group session to introduce participants and instructors, schedule and program layout, requirements to receive a certificate at the end of the course, and opening exercises. Each subsequent day through July 31, participants will be presented with recorded lessons, lectures, and live interactive discussions via Zoom and Moodle, an online training platform.
Participation is required in four Friday Zoom group meetings:
July 10, 7:00 to 9:00 PM
July 17 7:00 to 9:00 PM
July 24, 7:00 to 9:00 PM
July 31, 7:00 to 9:00 PM
Register for the course by July 6 ($50 fee). Scholarships are available. https://tinyurl.com/Anti-Racism-July2020
Contact Father Todd if you would like scholarship help! This is an excellent resource!
We celebrate the saints:
Bernard Mizeki
Catechist and Martyr in Africa (18 June 1896)
SINCE FRIDAY, MARCH 13 BUILDINGS CLOSED – NO EVENTS ON CAMPUS
MONDAY THROUGH SATURDAY DAILY OFFICE The Daily Office is the cycle of prayers traditional to Christians (and Jews before us!) that we see hinted at in the Psalms and elsewhere. Join St. Thomas' as we pray, Monday through Saturday. Morning Prayer is posted online each morning at 5am. You can listen to it at whatever time suits you. Compline (bed-time prayers) meets live online at 9pm.
See a list of upcoming events or check them out on a calendar.
Saturdays, 5:30pm: Evening Prayer
Sundays, 8am: Morning Prayer (recorded)
Sundays, 9am: Sunday School
Sunday School for children
Sundays, 10am: Adult Formation
Sunday School for adults – some Sundays in summer
Sundays, 11.15am: Holy Eucharist at the National Cathedral
Mondays, 4pm: Centering Prayer
Tuesdays, Noon: Coffee Hour
Wednesday, 6.30pm: Prayer in the Evening
Wednesdays, 7.00pm: Bible Study with the Bishop
Daily on Weekdays: Morning Prayer and Compline