Dear St. Thomas',
The church is not a building. That point is often spoken by preachers in the abstract. It has been made real and driven home for us this year as we have continued to be Christ's church through the pandemic. Our church campus was closed for several months, and even now we only get very limited use of our buildings. Our primary services, two per week, meet outdoors rain or shine. The church is not a building. The church is the community that gathers in worship and mutual care.
The church is not a building, and neither is a campus group. Rowan University has severely restricted the use of their campus this year, making it especially hard for TEC@RU (The Episcopal Church at Rowan University) to operate. Yet this year, thanks to the diligent efforts of Rachael and Matt Owen, TEC@RU has continued to be a presence on campus, proclaiming the dignity of every human being and inviting students into experiences of fellowship, learning, and worship as much as possible with the bounds of Rowan's pandemic protocols.
The church is not a building, and neither is a Sunday School. I can't stop talking about how amazing our Sunday School, Children's Chapel, and youth group teachers and supporters have been combining their efforts and doing what it takes to adapt to the exigencies of a health emergency while continuing to care for the children and youth of our parish. Their offerings have included weekly online gatherings, care packages with Sunday School craft projects delivered to porches, and special events like socially distanced Gingerbread Houses or even a visit with the Easter Bunny.
The church is not a building, and neither is a small group of study and mutual care. Cole Banning began leading a small group at St. Thomas' more than a year before the pandemic. When our buildings closed, that group didn't miss a beat. They have continued to meet online, growing in their knowledge of God and in their care for one another. They have been a support to one another, and to St. Thomas', throughout the pandemic.
The church is not a building. The church is not a program. The church is not a prayer book. These things are all good and valuable and important. Their purpose is to support and enable the ministry of the church. The church is a community gathered in worship and mutual care. The church is a "covenant" community. ("Testament" as in "Old Testament" and "New Testament" is another word for "covenant.") In our "Foundations of Faith" group this week, we defined "covenant" as a "relationship of mutual accountability around a shared mission."
What mission, you ask?
"The mission of the Church is to restore all people to unity with God and each other in Christ." (BCP, 855)
The church might have a building. Or it might not. The church might have a program. Or it might not. The church might have specific roles and clergy. Or it might not. But a church has people, in relationship, choosing to be accountable to one another and to God, in pursuit of a shared mission. I am proud to be part of a community that has risen to the challenge of the pandemic and showed that we are God's people, no matter what circumstances we may encounter. Every single person who has shown up for prayer and worship (online or in-person), made phone calls, provided meals for Family Promise or labored for Kitchen of Hope, mailed in contributions, continued to support the administrative and physical needs of the parish, or lifted up St. Thomas' in prayer – every one of you has demonstrated that the Church is alive and well at St. Thomas', undaunted by the challenges we face and continuing to respond to the inspiration of the Holy Spirit.
Together we continue to participate in the Church's mission, and God is praised because of it.
Faithfully,
Todd+
Register for a Summit on Building and Equipping the Beloved Community taking place tomorrow (Saturday, 17 April) at 10am. Put on by ECS-NJ (Episcopal Community Services of the Diocese of New Jersey), this promises to be an engaging forum grounded in sacred scripture that will educate, inspire, and energize all participants for active engagement in the work of building and equipping the "Beloved Community" by addressing the root causes of poverty and injustice. They keynote speaker will be Adele LaTourette, Director of Hunger Free New Jersey. Register here.
Pentecost is one of the four days in the church year when baptisms are especially appropriate (BCP, 312)! If you or someone you know is interested in Baptism, please contact Fr. Todd right away.
Each year the Diocese ECW grants Student Service Awards to graduating seniors and students continuing their college education. We encourage all our qualifying church members to apply for this award. Find instructions and the application here. The deadline to apply is May 1st.
St. Thomas' is hosting a Red Cross Blood Drive on Tuesday, 4 May, from 2pm-7pm. Sign up online or use sponsor code: St. Thomas Glassboro
---
The Diocese of New Jersey has a crack team available to help you get an immediate appointment for vaccination against Covid-19. Use this form to get signed up for an appointment right away.
The CDC has provided guidance for those who have received the Covid-19 vaccine. Some protocols are relaxed among "fully-vaccinated" persons in private settings. For as long as not everyone has access to the vaccine, we will as a parish observe the protocols that keep everyone – including the unvaccinated – safe. This is a matter of justice: we do this in order to be in solidarity with all God's children.
Announcements for the bulletin or parish email are due into the office by noon on Wednesday of each week. You can email them to office@stthomasglassboro.org or call the office at 856-881-9144. Announcements are subject to editing due to limited space.
Download this week's bulletin or see the online versions.
Lectionary readings for this week: Acts 3:12-19, 1 John 3:1-7, Luke 24:36b-48, Psalm 4
Lectionary readings for next week: Acts 4:5-12, 1 John 3:16-24, John 10:11-18, Psalm 23
Please continue in your daily prayers for: Dennis, Marge, Joann, Andrea, Bob, Jimmie, Chuck, Jimmie, Jerry, Gary, Carl, Bill, Jeannie, Zenaida, Kass, Joan, Michael, Dee, Carmela, Howard, Kass, Sandy, Floss, Butch
This Weekend at St. Thomas'
Online events hosted by St. Thomas' are accessed via Zoom: instructions here.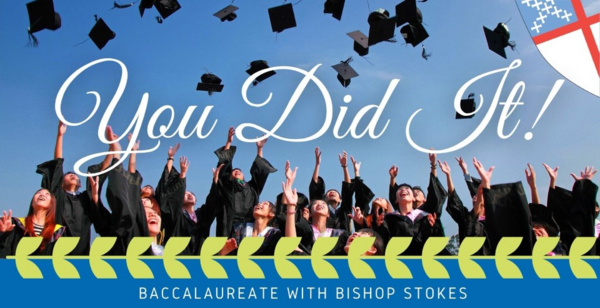 Diocesan Baccalaureate Celebration with Bishop Stokes May 23, 3:00 p.m.
This year's Baccalaureate with the Bishop will feature the presentation of scholarships, a virtual parade of graduates featuring your submissions, a multi-language reading of Acts 2:11 for Pentecost, and more!
If you are graduating this year (or know someone who is), please contact us at youth@dioceseofnj.org so we can include you in this year's celebration!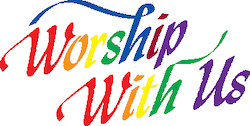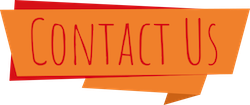 Saturdays, 6pm: Holy Eucharist
in the Nave: limited to 12 pews of up to two people each
Sundays, 8am: Holy Eucharist
in the Parish Hall and online
Sundays, 9am: Sunday School
online: for children
Sundays, 10.30am: Holy Eucharist
outdoors, rain or shine
Sundays, 6pm: Youth Group
online: for teens
Mondays, 4pm: Centering Prayer online
Tuesdays, 6.30pm: Small Group Bible Study online
Wednesday, 5.30pm: Holy Eucharist
outdoors, rain or shine
Wednesdays, 7.00pm: Foundations of Faith online
Daily on Weekdays: Morning Prayer
online: recorded
WEB:
https://www.stthomasglassboro.org/
OFFICE:
office@stthomasglassboro.org
Office telephone:
856-881-9144
Emergency Pastoral Care:
856-881-2841
Call this number if you have a pastoral emergency, such as an alert about an ailing parishioner, a hospital stay, a death in the family, or to request last rites. Leave a message and with a phone number for your call to be returned.