Notices
After 92 years uninterrupted, this year we will not be offering our Election-Day Ham & Oyster Supper. Thank you to all who have supported us in this activity in the past. Stay healthy out there and please check back with us next year!

Most events at St. Thomas' continue to meet online only. The exceptions to this are our Kitchen of Hope outreach ministry and our gradual introduction of celebrations of the Holy Eucharist.

For the Holy Eucharist, we are presently meeting outdoors on Sundays at 10.30am. Please wear a mask and bring your own chair (and umbrella if needed!). As we care for one another during this pandemic, please only attend if you are willing to join us in observing a strict protocol.

Join us every morning (except Sunday) for Daily Morning Prayer.

Read our latest newsletter or sign up down below to receive your own copy!
What's going on?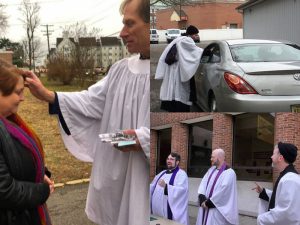 Ashes to Go was a big day this year. Thanks to the combined efforts of the TEC@RU consortium, we provided Ashes for over 200 Rowan students, faculty, and staff, besides our own neighbors and congregations! You can also see a brief video.

Remember that you are dust, and to dust you shall return!
Today at St. Thomas'
11:00 am
Lois Robinson Funeral (private)

4:30 pm
Adult Formation

A study of the theology of peace throughout the Bible. Feel free to join any week!

5:30 pm
Evening Prayer (Nave)

6:00 pm
Holy Eucharist (Nave)

Attendance when we meet in the nave is limited to just 16 people!

7:00 pm
Alcoholics Anonymous
Everyone is welcome
We welcome you to worship with us! St. Thomas' welcomes everyone regardless of age, abilities, physical or mental health, ethnicity, sexual orientation or gender identity, income, education, political affiliation or faith commitment. The things which bind us are greater than the things that separate us, and the love of God is greater than all our divisions. Children are welcome at all services as well as at children's chapel, offered during the 10am Sunday service.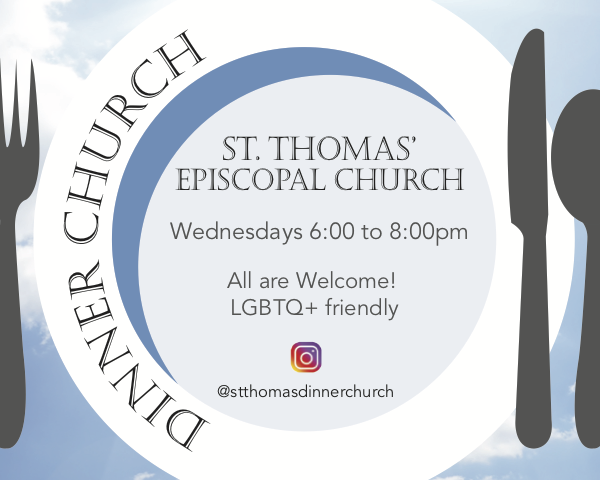 We are located at:

212 North Main Street
Glassboro, NJ  08028 [map]
(856) 881-9144
office@stthomasglassboro.org

Come and Worship
4:30pm Saturdays: Adult Formation
5:30pm Saturdays: Holy Eucharist*
*First Saturday of each month is a Healing Prayer service!
8:00am Sundays: Holy Eucharist
9:00am Sundays: Formation for all ages
10:00am Sundays: Holy Eucharist with music
10:00am Sundays:  Children's Chapel in Parish Hall
4:00pm Mondays: Centering Prayer
6:00pm Wednesdays: Dinner Church (while Rowan is in session)
Sign up for our weekly email!
About Us
St. Thomas' is an Episcopal Church, a member of the Anglican Communion. Striving to walk a middle way between Roman Catholicism and Protestantism, we recognize the leadership of our Diocesan Bishop, our Presiding Bishop, and the Archbishop of Canterbury. We embrace the traditions handed down to us by the ancient Christian church with an attitude that is described as "comprehensive": encompassing great diversity.
Our Mission
Q. What is the mission of the Church?
A. The mission of the Church is to restore all people to unity with God and each other in Christ.
(The Book of Common Prayer, p. 865: "An Outline of the Faith commonly called the Catechism")