Dear St. Thomas',
Tomorrow, 24 March, is the Feast of the Annunciation. We commemorate the day when the angel Gabriel came to Mary to tell her that God was about to do something new and unexpected in the world, and that Mary had a critical part to play in that new work of God.
How does a young girl, practically a child, feel when she's told that she will become pregnant and bear a child? How does one respond to that? Can you imagine the anxiety? What if her family doesn't believe her about where that baby came from? Would you believe her?
The past two weeks have been full of newness and wonder — and not a little anxiety. But if we can be calm and engage with our fear, perhaps we will learn new things about our faith, about our world, and about our God's love for us. May God give us the courage and the faith to answer as Mary did: Here I am, the servant of the Lord. Let it be to me as you have said.
Faithfully,
Todd+
---
News
Three things I want to be sure you know:
In last Friday's Good News in the Garden State, our Bishop indicating, among other things, that our buildings will remain closed at least until 1 May, including Holy Week and Easter. At no time before then should there ever be more than ten of us gathered for any reason. He is explicitly ruling out outdoor events or other occasions when we might choose to gather. The reason is that by remaining apart, we are "loving our neighbor" (our families, one another, our communities) in a very real way by avoiding spreading a virus that is killing thousands of people. As we do so, we are reaching back to our roots in "Desert Spirituality": the early Christians who sought deserted places to sharpen their hunger for God. That is our opportunity in this season!
Last Saturday, Governor Murphy issued a statewide "Stay at Home" order. The deaths aren't lining up in South Jersey the way they are in New York or in Italy. This order is designed to minimize that eventuality.
Bishop Stokes issued an additional letter in response to the Governor's order. It answers questions about how we are to comply with that order.
---
Something you can do
Here is a tangible way you can help during this time of national crisis. The Birth Center needs masks. There is a dangerous shortage of face masks at the hospital where The Birth Center transfers laboring women with complications, and The Birth Center has never needed mouth and nose protection for low-risk laboring women, so they have none. And there are none available for purchase.
They would like to stay healthy and keep working. Here's how you can help:
If you have extra masks at home, donate them. A person at home doesn't need a mask as much as a medical professional.
If you have hepa vacuum bags (the cloth kind with many layers) or elastic, you can donate that for others to make masks.
Make masks with materials from your house, or with materials that others donate.
Digging around your home looking for fabrics and materials? The New York Post reports that a recent study showed vacuum cleaner bags offer 86 percent protection against the smallest particles tested, followed by dish towels at 73 percent, a cotton-blend T-shirt at 70 percent and an antimicrobial pillowcase at 68 percent. If you're sewing your own mask, test it—if water seeps through it or the inside gets wet, it's not effective.
Here are patterns and instructions for two styles of masks:
Patterns and Instructions can be found here:
And Pattern 2 has a Tutorial on You Tube if you want to see someone making it in action.
If you have items you would like to donate, or if you would like to make masks but don't have materials, contact Becky Foster to arrange a drop-off or pick-up which would involve social distancing. If you need help getting in touch with Becky, you can leave a message at the church office (office@stthomasglassboro.org or 856.881.9144).
---
Easter Flower Memorials
Have you spoken to Leslie Medynec about your Easter Flower Memorials? This weekend is the deadline to do so: any memorials submitted after Sunday will not be in the Holy Week bulletins! If you don't know how to contact Leslie, leave a message the church office (office@stthomasglassboro.org or 856.881.9144) and we'll connect you!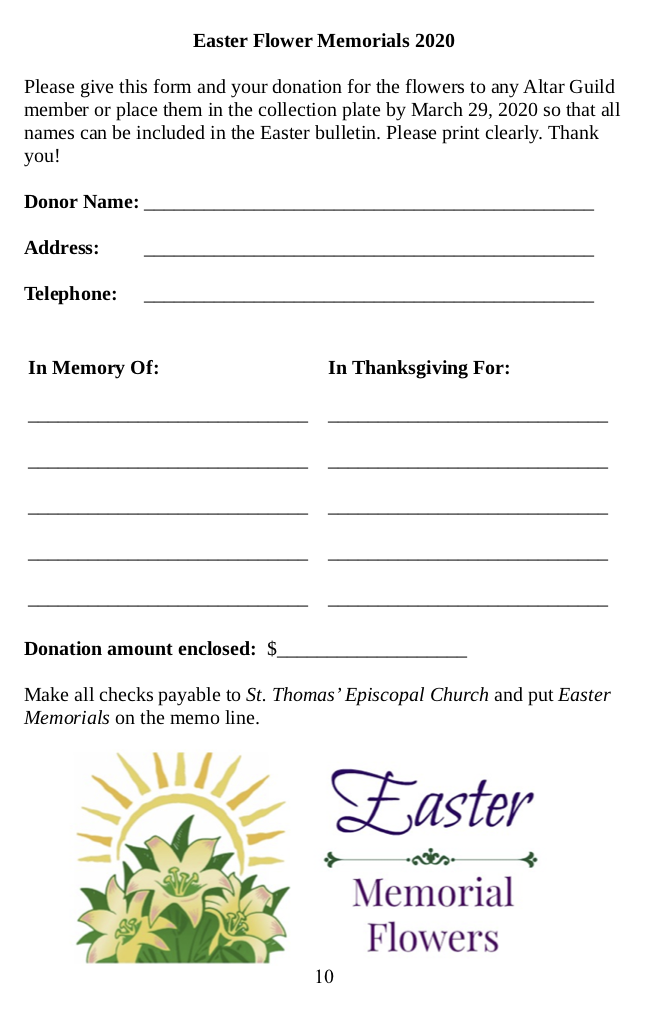 ---
Check the website!
Check the St. Thomas' website daily for updated information about staying connected to our parish community!
---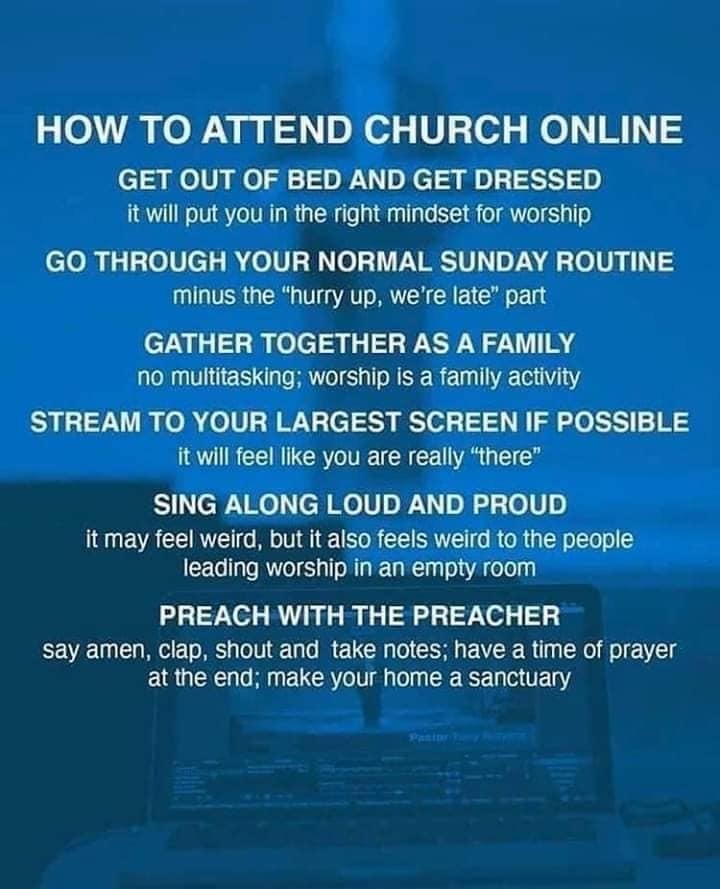 ---
---
Let us pray.
O God of peace, who hast taught us that in returning and rest we shall be saved, in quietness and in confidence shall be our strength: By the might of thy Spirit lift us, we pray thee, to thy presence, where we may be still and know that thou art God; through Jesus Christ our Lord. Amen. (BCP, p. 832)