View this email in your browser.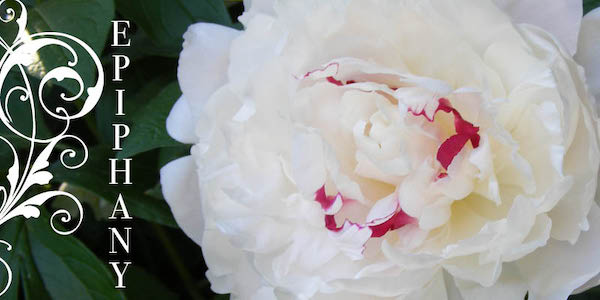 The CDC COVID-19 Community Level is MEDIUM. This means masks are not required but still not a bad idea! COVID exposures (being around someone who has COVID but doesn't realize it yet) are still happening, including at church.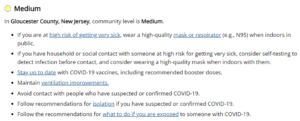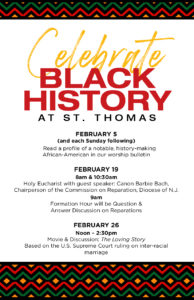 ---
Read about our New Bishop here!
---
Read A pastoral word from Presiding Bishop Michael Curry on the death of Tyre Nichols
Read We Must Stop Forgetting by the Rev. Canon Stephanie Spellers
---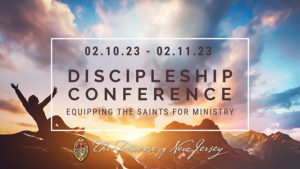 The Diocese of New Jersey is holding it's 2nd Annual Discipleship Conference.  This 2-day event will cover topics such as Stewardship & Discipleship, Personal Examen Prayer Practices, Gardening as Discipleship, Disability & Discipleship (two distinctive sessions), Way of St. Paul and Youth Ministry.  More information and registration form can be found here.
---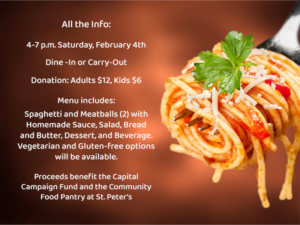 ---
Blessings for Birthdays & Anniversaries are offered the first Sunday of each month. Come to church this Sunday to receive a birthday blessing!
February Birthdays
3       Phyllis D.
4       Debra W.
4       Wayne R.
6       Eric C.
10      Lillian S.
11      Bryan A.
11      Maiiya O.
13      Diane S.
14      Bea M.
17      Sarah T.
19      Kathleen I.
19      Rev Todd F.
22      Elvin D., Jr.
24      Jonathan W.
25      Alan A.
26      Jo-Ann T.
February Anniversaries
21      Bob & Maryann S.
January pledge: $15,418.67
January given:   $21,488.15            139.11%
---
Lectionary readings for this week:  Isaiah 58:1-9a, [9b-12], 1 Corinthians 2:1-12, [13-16], Matthew 5:13-20, Psalm 112:1-9, (10)
Lectionary readings for next week:  Sirach 15:15-20, 1 Corinthians 3:1-9, Matthew 5:21-37, Psalm 119:1-8
Please continue in your daily prayers for: Dennis, Marge, Joann, Lou, Jennifer, Mary Esther, Cameron, Joe, Jane, Lori, Richard, Bea, Sue, Emma, Phyllis, Lenore, John, Jesse, Jamie, Laura, Judy, Becky, Cindy, Heather, Bill
---
Announcements for the parish email are due via email by noon on Wednesday of each week. You can email them to announcements@stthomasglassboro.org
The church calendar can be seen at https://www.stthomasglassboro.org/calendar/ for a list of upcoming events. Please help us keep it current (and avoid hurt feelings) by sending updates to the church office (office@stthomasglassboro.org).
Are you serving in liturgy? Check the rota!
Prayer requests can be sent to prayer@stthomasglassboro.org
Watch our livestream here Saturdays at 5:30pm and Sundays at 8am & 10:30am!
Full-text of the liturgy is available at  https://www.sharedprayers.net
Holy Eucharist (Nave – now with music!): Saturdays, 5:30pm
Holy Eucharist in the Nave – Rite I (Nave):  Sundays, 8am
Adult Formation (Parish Hall):  Sundays, 9am
Coffee Hour (Parish Hall): Sundays, 10am
Holy Eucharist (Parish Hall): Sundays, 10:30am
Centering Prayer (Nave): Mondays at 4pm (also on Zoom)
Holy Eucharist at Lych Gate (most times):  Wednesdays, 5:30pm