View this email in your browser.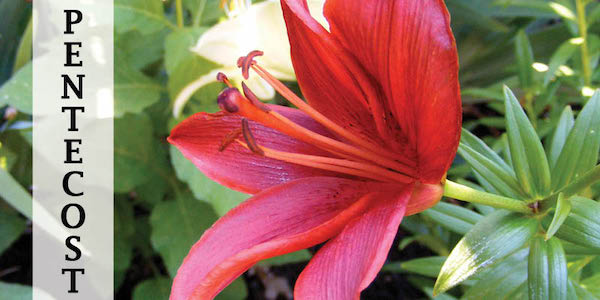 Skip Rambo and his mother Esther DeEugenio are long time members of St. Thomas. Since Eshter's recent passing, Skip is grieving as well as figuring out all kinds of details about living alone. We can help him with one of the most basic – having food to eat! Please ask a member of the vestry for Skip's contact info or check the church bulletin board if you would like to provide a meal for Skip during this time of transition.
---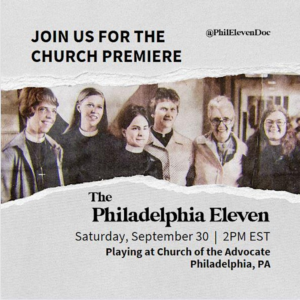 Did you know that the first women to be ordained in the Episcopal Church were ordained in Philadelphia in 1974? Fifty years later, a documentary film has been made about "the Philadelphia Eleven" and will be screened on-site at the beautiful and historic Church of the Advocate on Saturday, 30 September, at 2pm. Cast members will be in attendance! We have ten tickets! Please email office@stthomasglassboro.org to reserve yours and join Fr. Todd at this event. First come, first served! Also specify whether you would be interested in a carpool from St. Thomas'.
---
The annual Fall Flea Market will be on Saturday, September 16, 2023. Anyone interested in renting a table can contact Barbara C. 609-876-7245.
---
If you would like to support relief efforts for those suffering from the fires in Hawai'i, Bishop Fitzpatrick of the Episcopal Diocese of Hawai'i suggests donations to the Episcopal Ministry on Maui called A Cup of Cold Water .  You can send checks to: A Cup of Cold Water, 2140 Main St., Wailuku, HI 96793. Or you can donate online by giving to the Bishop of Hawai'i's pastoral fund which will then be forwarded on to A Cup of Cold Water.
---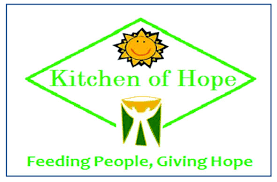 Kitchen of Hope is the largest ministry in St. Thomas', positively impacting 100's of people in the community each month by providing food and other seasonal needs.  Help is needed any time on the Friday mornings before the giveaway, between 8:00 am and noon to  prepare the bags. Help is also needed on the Saturday of the giveaway anytime between 8:00 am and 2:00 pm.  Even an hour is helpful!  Giveaways are the 2nd Saturday of each month.  Contact Vivian H or any KoH Board Member to get involved.
Interested in joining a new ministry but don't know where to start?  Every week, a different group will be highlighted at the end of the newsletter.  Information about meetings, what they do in the church or community, contact info and more!  If you have content you want to share about your ministry, send it to announcements@stthomasglassboro.org to be featured in an upcoming newsletter.
---
Lectionary readings for this week:  Exodus 1:8-2:10, Romans 12:1-8, Matthew 16:13-20, Psalm 124
Lectionary readings for next week:  Exodus 3:1-15, Romans 12:9-21, Matthew 16:21-28,Psalm 105:1-6, 23-26, 45c
Please continue in your daily prayers for:  Lou, Jennifer, Cameron, Jane, Bob, Jess, Ginny, Dolly, Dianne, Dean, Richie, Christopher, Sandy, Robin, Valentina, Donna, Jackson, Jessica, Gage
---
Announcements for the parish email are due via email by noon on Wednesday of each week. You can email them to announcements@stthomasglassboro.org
The church calendar can be seen at https://www.stthomasglassboro.org/calendar/ for a list of upcoming events. Please help us keep it current (and avoid hurt feelings) by sending updates to the church office (office@stthomasglassboro.org).
Are you serving in liturgy? Check the rota!
Prayer requests can be sent to prayer@stthomasglassboro.org
Watch our livestream here Saturdays at 5:30pm and Sundays at 8am & 10:30am!
Full-text of the liturgy is available at  https://www.sharedprayers.net
Holy Eucharist (Nave – now with music!): Saturdays, 5:30pm
Holy Eucharist in the Nave – Rite I (Nave):  Sundays, 8am
Coffee Hour (Parish Hall): Sundays, 10am
Holy Eucharist (Nave): Sundays, 10:30am