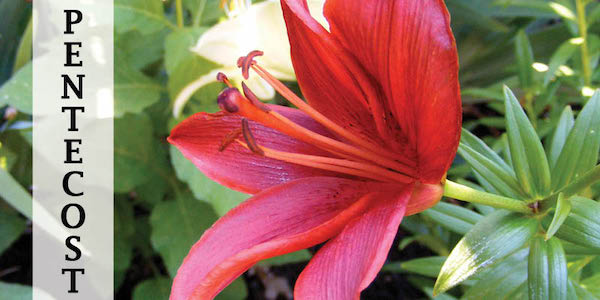 Kitchen of Hope's monthly giveaway is tomorrow, Saturday 20 November, in order to better provide food for Thanksgiving.  Contact Vivian H. if you would like to help out!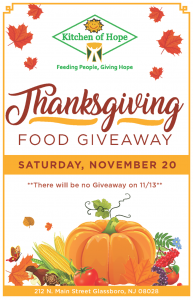 TEC@RU (The Episcopal Church at Rowan University) is participating in a Campus Ministry Retreat in a couple weeks. Students from as far north at Cornell will be joining us at Camp Crossroads. Would you be willing to help provide snacks for hungry college students from across NJ and NY?  Homemade or pre-packaged items are all welcome and need to be clearly labeled and dropped off at the Parish Hall by noon, today, 19 November.
You are invited to attend a Festival of Advent Music. Organized by the Southwest Jersey chapter of the American Guild of Organists, and hosted by St. Stephen Lutheran Church (240 N Evergreen Ave., Woodbury NJ), the program will feature a variety of works from artists representing many local congregations, including our own Dr. Bryan A-W. The concert will be on Sunday, 21 November, from 4–5.15pm. Donations will be accepted to benefit Hurricane Ida disaster response. Masks required.
St. Thomas' own Tal K. has been added to the Bishop Search Committee as an at-large member. Service on that committee will entail a great deal of work over the next two years, including nearly weekly meeting. When you see him, tell Tal "Thanks" for giving of his time so generously to represent us in the search for our next Bishop.

Wanted: Families to light the Advent wreath each week of Advent! Email office@stthomasglassboro.org with the week you would like to light the wreath (28 November, 5 December, 12 December, 19 December) and which service (Saturday or Sunday) .
The Episcopal Church of the Good Shepherd (Pitman) is hosting its annual Hol-Lee Fair on Saturday, 4 December, 2021 from 9am to 3pm.
The leaves are falling: that means it's almost time for Grungy Sunday! Join us right after the 10.30 service on Sunday, 5 December as we clean and beautify the St. Thomas' campus in preparation for the winter months.
You are invited to the Celebration of New Ministry for Grace Church, Merchantville and their new Rector, the Rev. Bob Fitzpatrick, on 20 November at 11am.
St. Peter's Episcopal Church in Clarksboro is offering a carry-out only Pork & Sauerkraut supper on Saturday, 20 November, from 3pm to 6pm. For more information, see http://www.stpetersclarksboro.org/pork.
On Thanksgiving Day (25 November) we will celebrate a brief Eucharist at noon in the Nave. Masks covering nose and mouth are required.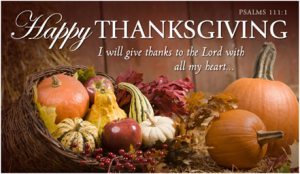 Isaiah readings for Bible Study Sunday night: Isaiah 49–55
Daily Covid Cases can be found for Gloucester County here.
Lectionary readings for this week: Last Sunday after Pentecost – 2 Samuel 23:1-7, Psalm 132:1-13 (14-19), Revelation 1:4b-8, John 18:33-37
Lectionary readings for next week:  First Sunday in Advent – Jeremiah 33:14-16, 1 Thessalonians 3:9-13, Luke 21:25-36, Psalm 25:1-9
Please continue in your daily prayers for:  Dennis, Marge, Joann, Lou, Jennifer, Jackie, Gary, Paul, Rita, Marie, Carl, Gerry, Joe, Jennifer, Gage, James, Walter, Robert, Kevin, Yomaira
---
Announcements for the parish email are due via email by noon on Wednesday of each week. You can email them to announcements@stthomasglassboro.org
The church calendar can be seen at https://www.stthomasglassboro.org/calendar/ for a list of upcoming events. Please help us keep it current (and avoid hurt feelings) by sending updates to the church office (office@stthomasglassboro.org).
Are you serving in liturgy? Check the rota!
Full-text of the liturgy is available at  https://www.sharedprayers.net
Holy Eucharist on Lawn: Sundays, 10:30am
Bible Study on the prophet Isaiah Online:  Sundays, 6pm
Compline Online:  Sundays, 7pm
Centering Prayer Online: Mondays, 4pm
Holy Eucharist at the Lychgate: Wednesdays, 5.30pm
Compline & Pizza (especially for Rowan students) at the Lychgate: Wednesdays, 8pm
Holy Eucharist in the Nave and Streaming online, 5:30pm