View this email in your browser.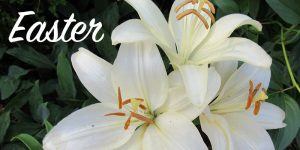 Thank you to everyone who came out for Kitchen of Hope!  Our next giveaway is 10 June.
---
Our own Tal K. was inducted as an Honorary Canon of Trinity Cathedral last Saturday.  If you missed it, you can watch the recording here.
---
In celebration of the feast of Pentecost, we will be having a Pentecost Potluck!  Whip up your favorite dish and bring it Sunday, 28 May following the 10:30 service.  Sign Up sheet is in the Lower Level Parish Hall, on the bulletin board, by the coffee machine.  Quick and fun craft for all ages to follow.  Please contact Sarah T. for questions.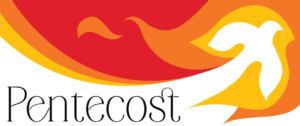 ---
The Tuesday Night Bible Study will be taking the rest of the month of May off. We will be returning on Tuesday, June 6 when we will start reading the Gospel of John together. We meet every Tuesday at 7pm on Zoom. All are welcome.
---
Monday's Centering Prayer and Wednesday's Holy Eucharist Services will be on hiatus through July.
---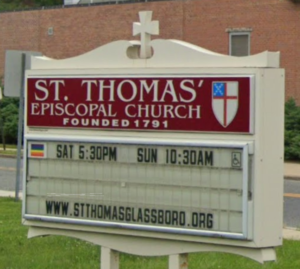 The Delsea Drive sign is one of the first things every person that passes our grounds sees.  It is updated weekly to inform the community that we are here and ready to share the good word with them!  Updating only takes a few minutes a week and can usually be done when you're at church already!  Interested?  Contact Wayne R. for details and to get on the rotation!
Interested in joining a new ministry but don't know where to start?  Every week, a different group will be highlighted at the end of the newsletter.  Information about meetings, what they do in the church or community, contact info and more!  If you have content you want to share about your ministry, send it to announcements@stthomasglassboro.org to be featured in an upcoming newsletter.
---
Lectionary readings for this week:   Acts 1:6-14, 1 Peter 4:12-14, 5:6-11, John 17:1-11, Psalm 68:1-10, 33-36
Lectionary readings for next week:  Numbers 11:24-30, Acts 2:1-21, John 20:19-23, Psalm 104:25-35, 37
Please continue in your daily prayers for: Dennis, Marge, Joann, Lou, Jennifer, Cameron, Jane, Richard, Sue, Becky, Bob, Andrea, Heather, Antoinette, Tal, Barbara, Brenda, Neil, Tammy, Walter, Andy, Ruth, Cyril, Jim, Bob, Jimmy, Linda, César, Joan, Ronnie, Sandy
---
Father Todd will be on sabbatical May, June and July (returning in August). In case of a pastoral emergency, please contact Deacon John.
Announcements for the parish email are due via email by noon on Wednesday of each week. You can email them to announcements@stthomasglassboro.org
The church calendar can be seen at https://www.stthomasglassboro.org/calendar/ for a list of upcoming events. Please help us keep it current (and avoid hurt feelings) by sending updates to the church office (office@stthomasglassboro.org).
Are you serving in liturgy? Check the rota!
Prayer requests can be sent to prayer@stthomasglassboro.org
Watch our livestream here Saturdays at 5:30pm and Sundays at 8am & 10:30am!
Full-text of the liturgy is available at  https://www.sharedprayers.net
Holy Eucharist (Nave – now with music!): Saturdays, 5:30pm
Holy Eucharist in the Nave – Rite I (Nave):  Sundays, 8am
Adult Formation (Parish Hall):  Sundays, 9am
Children's Sunday School (Parish Hall):  Sundays, 9am
Coffee Hour (Parish Hall): Sundays, 10am
Holy Eucharist (Parish Hall): Sundays, 10:30am